MaxiCalc has lots of (very good) sounds. If you are not hearing them when you type, don't worry: sound problems on the iPad are easy to solve.
This quick Video can help you to fix* your iPad sound problem
(1min 36sec, watch it entirely)

To watch ti directly in the YouTube site/app: http://youtu.be/SDf1LDcE95Q
Sound problems on iOS 6 (the old video)
if you can't hear the video, it has closed captions (subtitles) in English and a few other languages. Below you can see how to activate closed captions in the YouTube's App for iPad: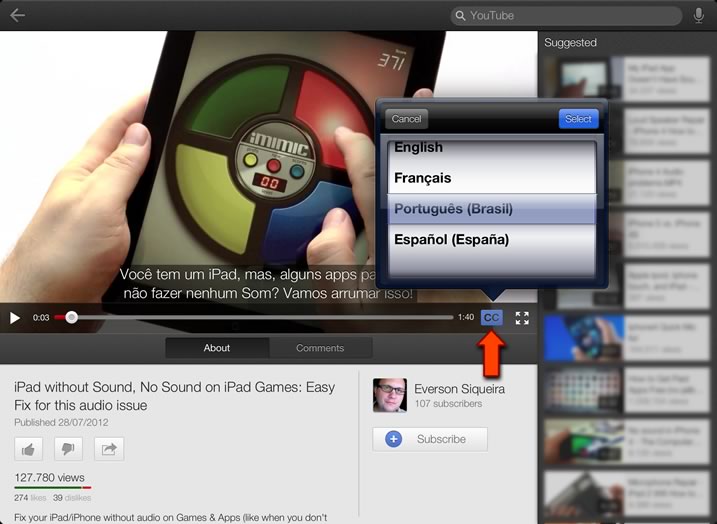 "If my iPad was on mute, how could I hear videos?"
Very nice observation. It seems Apple thought it would be easier for users if the iPad always reproduced the sound of videos – even when 'mute' is activated… And it causes lots of confusion.
People automatically associate: "I just heard sound in some video, so, the problem might be in this app"… and very often it is not the case. MaxiCalc, as well as much apps, will be subject to the 'side-switch' or low volume.
"Why did I need to close all apps and reboot the iPad to have sound?"
Closing all apps (then waiting 15 seconds, so iOS have time to properly terminate every app – sorry, not in the video) then reseting the iPad is a good advice not only for sound problems… it also helps to fix some 3G/Wifi problems and other issues. It is like turning your computer off and on again.
On daily usage, every app you open is normally kept semi-opened in background. If a game have a bug or crash, it can render parts of the Sound System unavailable to other Apps. You could close every app, one by one, and would eventually find which app was interfering… but it is much easier to simply close all of them, restart, and the iPad will behave all fine again.
"Still no sound…"
There are other problems that can affect the sound of an iPad. The headphones connector can be dirty, or with moisture (so it assumes there is headphones plugged in)… The docking connector can be dirty or humid as well, and it also 'cuts' the reproduction of the internal speaker. These are just a few examples… there is no way for us to have an exhausting list of problems and solutions for sound problems.
We suggest you to read a few discussions about it in the Apple Community Support Forum: https://discussions.apple.com/article/HT4085
But the best recommendation is to simply visit an Apple Store and look for help.
* Disclaimer: your iPad's sound is not our responsibility…
The advices in this page are based on recommendations found on Apple's Knowledge-Base articles, and we compiled our version as a convenience. You are entirely responsible for deciding to try them or look directly for help on an Apple Store. We shall not be held liable for any damages or consequences of the suggested tips.